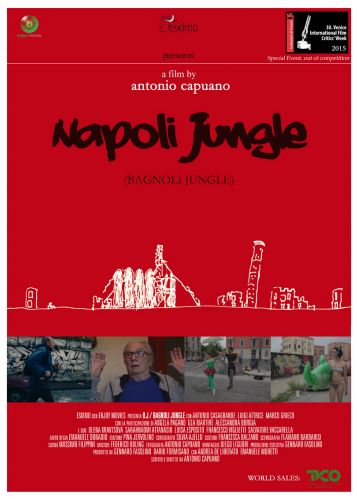 Napoli Jungle (Bagnoli Jungle)
Three generations lost in the jungle of Bagnoli, a degraded working class neighborhood of Naples. Three chapters, each about one generation:
» show more
Giggino, fifty-something, always on the go, a poet in restaurants, a petty thief on the streets; his father, Antonio, in his 80's, a pensioner from Italsider, once the iconic Naples' steel mill, now a looming, huge, rusty ghost-town still haunting Bagnoli. He's nostalgic of his old factory days and his old political passions. A local celebrity knowing all about former soccer star Maradona's feats, which he tells for a fee to local aficionados; and finally Marco, 18, a sweet, street-savvy deli delivery boy, struggling with his future but confused as to how to get there… Around them the jungle – where all sense has been lost and no replacement has been found yet.
» show less
Italy - 2015
Producer:
Eskimo and Enjoy Movies
Director:
Antonio Capuano
Cast:
Luigi Attrice, Antonio Casagrande  Marco Grieco, Angela Pagano
Genre:
Drama
Italian with English subtitles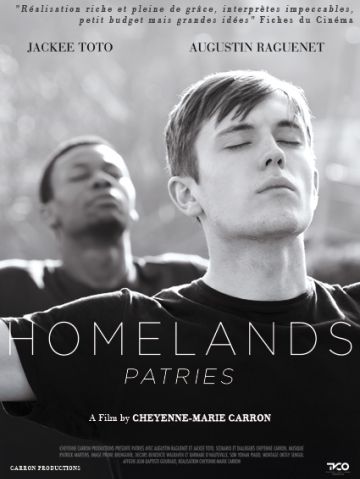 Homelands (Patries)
Sébastien, a French white boy, is forced to move with his family to a banlieu neighborhood due to economic problems. He meets and becomes friends with Pierre a young Cameroonian,
» show more
who will act as a buffer between the white boy and his African friends who are hostile and very suspicious of Sébastien. In the meantime Pierre is trying to find a job but he strongly feels that his future is back in Cameroon, back to his origins.
A strong tale of racial integration, two different stories of young men who both are looking for a place to put their roots down.
» show less
France - 2015
Producer: Carron Productions
Director: Cheyenne-Marie Carron
Cast: Jackee Toto, Augustin Raguenet, Sylvia Homawoo, Sandrine Salyères, Prudence Maïdou
Genre: Drama
French with English subtitles 
The Son (Il Bambino di Vetro)
Palermo, today. Vincenzo Vetro, a 40-year-old husband and loving father, works at the municipal fish market every night. Outside his job, Vincenzo takes his 10-year-old son Giovanni with him on his door-to-door delivery rounds. But Vincenzo is indeed a drug courier for a local Mafia Boss.
» show more
For years, Vincenzo has been playing a double role, caught between a regular job and a shadowy underworld filled with threats and dangers. Giovanni starts realizing all this gradually, eavesdropping on the persecutory phone calls his anxious mother regularly receives until he becomes afraid of something terribly dangerous: are those people on the phone after Vincenzo?
Terrified, Giovanni will start digging in his father life until he will discover terrible secrets and a world where nothing is as it seems.
» show less
Italy - 2015
Producer: Revolver
Director: Federico Cruciani
Cast: Paolo Briguglia,Vincenzo Ragusa, Chiara Muscato, Claudio Collovà, Maziar Firouzi
Genre: Drama
Italian with English subtitles
Max & Hélène
Venice, 1944. Max, a Jewish student, is captured by the Nazis. Hélène, his French fiancée, pretends she is Jewish as well, so they both get deported to Poland. They get married on the train from where they escape, only to be captured again and separated.
» show more
Max survives a firing squad and flees to Poland where he joins the resistance. Hélène will stay behind in the concentration camp to become the victim of the sadistic German officer, Koeller. In 1960, after surviving the War and the Soviet Gulag, Max finds out that Koeller killed Hélene and starts chasing him to get his revenge. During his manhunt, he meets Simon Wiesenthal, the famous Nazi hunter, who is also trying to catch Koeller. Wiesenthal will have a shocking surprise for Max…
Max & Helene is about an extreme love story on the backdrop of a tragic historic event, a desperate revenge, an incredible manhunt, about the search for justice and the need to move forward.
» show less
Italy - 2015
Producer:
11 Marzo Film and Rai Fiction
Director:
Giacomo Battiato
Cast: 
Alessandro Averone, Carolina Crescentini, Ennio Fantastichini, Ken Duken, Hanno Koffler, Magdalena Cielecka, Marisa Leonie Bach
Genre:
Drama, Historical, War, Romance
English
Montedoro
Pia, a middle aged American woman unexpectedly finds out about her true origin when her adoptive parents die. Deeply moved and in the midst of an identity crisis, she decides to travel to Southern Italy hoping to locate her biological mother who she'd never seen.
» show more
She arrives at Montedoro, a small and remote village; but, what she sees is apocalyptic: the village, resting on a majestic hill, is completely abandoned and nobody seems to live there anymore. A ghost town . She runs across a few enigmatic people, die-hards who had never wanted to abandon the village; they take Pia on a fascinating and magical voyage through time and memory, re-joining the ghosts of her own unknown past, intertwining it with her family story and of that ancient and arcane community that comes back to life for one last time...
"Montedoro makes this place memorable and finally puts an end to my temptation to make a film in Craco" Abbas Kiarostami
"A rare and unique film, I've never seen anything like it!" Michelangelo Frammartino
"A mythic journey toward self-discovery, all set against fantastic Italian scenery" backstage.com
The Montreal World Film Festival - Focus on World Cinema; Annecy Cinéma Italien - In competition Lavazza Italian Film Festival (Australia); Atlanta Film Festival - World Premiere
» show less
Italy - 2015
Director: Antonello Faretta
Cast: Pia Marie Mann, Joe Capalbo, Caterina Pontrandolfo, Luciana Paolicelli, Domenico Brancale
Genre: Drama
Italian and English with English subtitles 
Snowscape(Neve)
An unexpected journey of two crossed destinies unraveling in a lost snowscape...
Donato, a strange and suspicious man is driving a green station wagon, looking for something, maybe the loot of a forgotten heist.
» show more
Nora, a beautiful woman gets stranded by her petty gangster lover from whom she may have stolen something important to him. Donato unwillingly decides to help Norah and take her with him on his mysterious drive. Why does Norah go with Donato and stay with him until the end?
» show less
Italy - 2014
Producer:
Eskimo
Director:
Stefano Incerti
Cast: 
Roberto De Francesco, Esther Elisha, Massimiliano Gallo
Genre:
Drama, Mystery, Noir
Italian with English subtitles
Karolina
Katia and Magda are two best friends about to take their final exam at the Film high school. They like to have fun but they must prepare for the test, they have to make a film. When their teacher tells them they should work on Blessed Karolina Kozka's story, they say no at first!
» show more
Katia and Magda want to make a film about important social issues and contemporary problems, they want to change the world, why should they focus on a peasant girl who died hundred years ago? but then… things start to go differently.
Karolina is a warm, sensible story about what young people desire and the choices they make, about the problems and dilemmas adults, with complicated family lives, are faced with, but also about how you can find help and support looking to those who have lived before us.... a long time ago. This film explores the world of simple, universal values underlying a good and happy life.
» show less
Poland - 2014
Producer:
Media Nobis
Director:
Dariusz Regucki
Cast:
Marlena Burian, Karol Olszewski, Barbara Duda, Jerzy Trela
Genre:
Drama
Polish with English subtitles
45th Parallel
Torino, a city on the 45th parallel, exactly half way between the North pole and the Equator: a metaphor for characters who live there walking the tightrope of life.
» show more
Ugo, a not-so charming forty-something, has never made much of himself, running out of money, has started to sublet part of the house he inherited and lives in. His tenants are: Maria, 26 years old, employed by a travel agency; Dario, 20, a literature student making ends meet by working at an animal safari park. Their life together is unpredictable, with shared communal moments followed by isolation, each character is seeking his own path to happiness.Things are complicated by the fact that Ugo develops a crush on Maria but Maria is attracted to one of her customers, Guido, and so is her friend and colleague Eugenia...
The situation comes to a head when the mortgage on the house is about to run out and the trio risk being turfed onto the street. This will drive each of them to pursue their own destiny, in an unpredictable way, on the edge
of the 45th parallel.
» show less
Italy - 2013
Producer:
Rossofuoco
Director:
Davide Ferrario
Cast: 
Walter Leonardi, Manuela Parodi, Eugenio Franceschini, Daria Pascal Attolini
Genre:
Romantic Comedy
Italian with English subtitles
The Medicine Seller
Bruno is a medical sales representative. His company, 'Zafer', is going through a bad period. Bruno is ready to do anything not to lose his job: corrupt doctors, cheat on colleagues, betray the loyalty of those who are closer to him.
» show more
Bruno is the last ring in the chain of bribery, an illegal method that Zafer, as many other pharmaceutical companies, practices in order to convince doctors to prescribe its medicines. And while just a few doctors refuse to play this game, many of them do not…
"Bruno, apparently a monster, is only the symbol of his society: he incarnates its contradictions, its anxiety, its corruption, its impunity" Antonio Morabito
» show less
Italy/Switzerland - 2013
Producer:
Classic and Peacock Film
Director:
Antonio Morabito
Cast:
Claudio Santamaria, Isabella Ferrari, Marco Travaglio, Evita Ciri, Ignazio Oliva
Genre:
Drama
Italian with English subtitles
Living Thomas (Thomas Vive)
A group of actors from a theater company shut themselves in a 13th century monastery in Spain for the rehearsals of a play about Thomas More's dramatic trial in the days before his decapitation.
» show more
The play characters begin to intertwine with the actors' personal conflicts and backstories. Antonio and Carmen, who play Thomas More and his daughter Margaret, start on an emotional journey during which their own very identity will be threatened.
An 'actor's film' celebrating a combination of stage and cinema performances. A glance at the intense world of acting, always on the edge between reality and fiction, sanity and insanity. In short, the dark and bright territory of the artistic creation.
» show less
Spain - 2014
Producer: 
NTIC and Punto 2 Producciones
Director:
Antonio Cuadri
Cast: 
Moncho Sánchez-Diezma, Mery Delgado
Genre:
Drama
Spanish with English subtitles
A Forbidden God
August 1936, the beginning of the Spanish Civil War, this film is about 51 seminarists of the Claretian community of Barbastro (Huesca) who were martyred in testimony of their faith.
» show more
Based on their writings in prison, from the day of their arrest until their execution, the film shows the young men's religious and human sides, highlighting the universal dimension of the triumph of love over death.
Best Picture at Mirabile Dictu International Catholic Festival 2014
» show less
Spain - 2013
Producer:
Contracorriente Producciones
Director:
Pablo Moreno
Cast:
Iñigo Etayo, Jacobo Muñoz, Elena Furiase
Genre:
Drama, History
Spanish with English subtitles
The Apostle
Akim is a young Muslim called to be an Imam. His identity will be challenged by his encounter with Christ...
Akim will have to face his family's, peers' and, above all, his brother's deep disapproval and refusal of his conversion, but he will struggle for acceptance through his testimony of faith and forgiveness. A film based on a true story.
» show more
A Catholic director and a Muslim cast together for a film that opens towards tolerance and diversity.
Capax Dei Foundation Award at Mirabile Dictu 2014, Sélection Festival Braunschweig International film, Sélection Festival du Film Franco-Arabe Institut Français, Sélection Festival Rendez-vous du jeune cinéma Français
» show less
France - 2013
Producer:
Carron Production
Director:
Cheyenne Carron
Cast: 
Fayçal Safi, Brahim Tekfa, Norah Krief, Sarah Zaher, Salah Sassi
Genre:
Drama
French with English subtitles